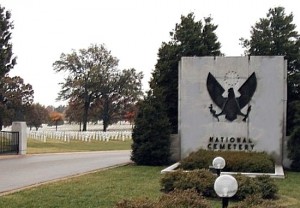 ST. LOUIS (AP) — An environmental law firm is suing to block plans to sell St. Louis County parkland for the expansion of a national cemetery for veterans.
The Great Rivers Environmental Law Center filed the lawsuit Thursday in St. Louis County Circuit Court on behalf of three local taxpayers.
The county and the U.S. Department of Veterans Affairs have agreed to mutually appraise the value of a 38-acre section of Sylvan Springs Park that would broaden Jefferson Barracks National Cemetery.
The cemetery is the nation's fifth-busiest military resting place. Officials have estimated that without expansion, it will run out of grave sites sometime in the next six years.
More than 302,000 veterans and their relatives are buried at Jefferson Barracks.
Messages left Friday with spokespeople for the VA were not immediately returned.