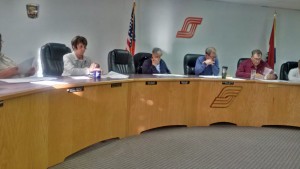 The City Council of Slater, Mo. will meet Tuesday, May 17, 2016 at 7 p.m. at city hall for their second session of May.
On the agenda is the Mayor's Report which will cover the trash schedule and items related to the city pool's impending opening.
There will also be a discussion of flowers at the cemetery for the Memorial Day Holiday and a discussion of a sewer study involving smoke testing.
One item that was discussed during the May 3 session and will be brought up again is street paving materials. Plus a discussion of drive by meter reading.
Council will gather inside chambers of City Hall at 232 North Main Street at 7 p.m.