UPDATE: 911/11/15) COLUMBIA, Mo. — The University of Missouri Police Department continues work with local and state authorities after apparent threats were made toward the campus late Tuesday.
12:34 p.m. — Formal charges from the Boone County Prosecuting Attorney have been filed against a 19-year-old male accused of making "terroristic threats" on social media.
According to court documents, Hunter Park, 19, is charged with making a terroristic threat. The prosecuting attorney requested bond be denied in the case.
Park remains in police custody. Officials were made aware of the threats on Yik Yak late Tuesday evening. Park was contacted by University of Missouri Police early Wednesday in Rolla and transferred to Columbia.
Park is a student at S&T University in Rolla.
8:18 a.m. — Officials were alerted after comments including, "Some of you are alright. Don't go to campus tomorrow," appeared online.
The suspect in custody has been identified as Hunter Park, 19, who made "terror" threats on the Yik Yak and other social media outlets. According to MUPD officials, Park was contacted in Rolla early Wednesda, where he was taken into custody and transported to Columbia. The University of Missouri heightened security on campus Wednesday.
The University is also confirming rumors about the KKK on campus are false. The Student Body President shared the warning on social media Wednesday. In a statement on Facebook, Payton Head said, "In a state of alarm, I was concerned for the safety of all students at the University of Missouri …"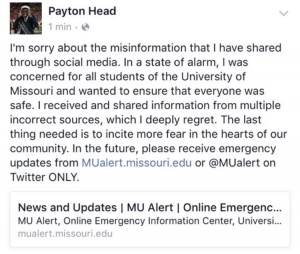 The threats come in the wake of more than a week of protests from black students on campus regarding systematic oppression. A hunger strike from a grad student and a boycott from the MU football team led to the resignation of University of Missouri System President Tim Wolfe, and Chancellor R. Bowen Loftin.
Park remains in custody with the University of Missouri Police. An investigation is ongoing.
Any parents seeking additional information regarding security measures on campus can contact Leslie Gale at 573-884-9933.