LEE'S SUMMIT, Mo— Lee's Summit Police are seeking the communities help in uncovering details regarding an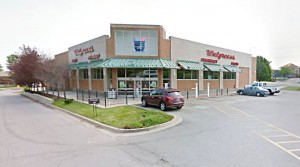 armed robbery at Walgreen's Thursday, March 10, 2016.
According to a release from the LSPD, around 9:45 last night, a lone man walked into the Walgreen's Pharmacy, located at 330 SW Ward Road, approached the pharmacy counter, produced a hand gun and demanded prescription medications. The pharmacist complied and the suspect fled the scene.
The man is described only as a white male wearing dark colored clothing and a hooded sweatshirt. Officers believe a light colored SUV was present in the area at the time of the robbery and may have been involved.
The name and amount of pharmaceuticals taken has not been released.
Anyone with information regarding the robbery or suspect is asked to call the Lee's Summit Police Department TIPS line at 816-969-1752.