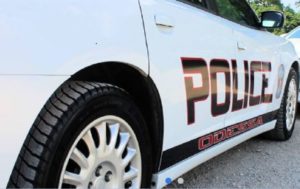 UPDATE:  1/17 – Odessa police say a manhunt that started as the result of a car chase Thursday morning is still underway.
Friday morning, police said the Sheriff's Department is now in charge of the investigation. The chase Thursday ended in Odessa after the vehicle was disabled. One subject was taken into custody, awaiting charges. A second suspect is still at large, and is believed to have left the area.
Anyone with information should contact local law enforcement.
ODESSA, MO – Odessa police say a suspect is being sought after a pursuit reported early Thursday morning.
One suspect who fled the vehicle, which was disabled near Dryden Street, was apprehended and taken to the County Jail around 6:30 a.m. A second subject is still at large. The chase began in Bates City by Lafayette County Sheriff's Office, and ended in Odessa after the vehicle's tires were punctured by spike strips.
Law enforcement is searching for a white male, with facial hair of unknown age, wearing jeans, camo, jacket and camo beanie. Police urge anyone with information not to approach the subject, and call 911.