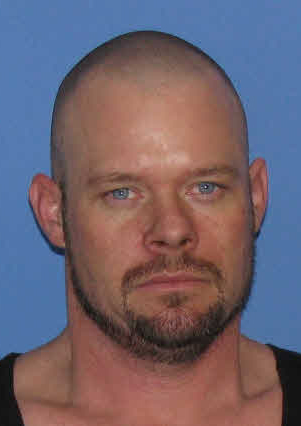 A man wanted for assaulting a Missouri Highway Patrol trooper and taking his gun walked out of a house in Kansas City around 1:30 p.m. and surrendered to authorities, ending a 3½-hour long standoff.
By midday, police had surrounded a home in the 700 block of Jackson Avenue in Kansas City.  Authorities believe that 31-year old Justin Heller of Kingsville is inside the home, and according to reports, police are working to negotiate his surrender.  Heller is wanted following an incident Wednesday morning when Cameron Police and the Clinton County Sheriff's Department requested assistance in a pursuit.  Heller crashed what was believed to be a stolen vehicle on Interstate 35, then got into a scuffle with a state trooper.  During the fight, Heller allegedly grabbed the troopers gun and fired at least one shot before stealing a minivan and taking off through Liberty.  That van turned up outside a home in eastern Kansas City, where it had been burned.
Press Release from the Missouri Highway Patrol
On April 20, 2011, at 1:28 p.m. the Missouri State Highway Patrol Troop A and Kansas City Police Department SWAT teams apprehended Justin Heller in a home at 715 Jackson Street, Kansas City, MO. Heller was wanted for the assault of a Missouri State Highway Patrol trooper that stemmed from an incident early this morning near Holt, MO, in Clinton County.
He has been charged with the following felonies: assault on a law enforcement officer, tampering with a motor vehicle, receiving stolen property, resisting arrest by fleeing, and unlawful use of a weapon. His bond on the Clinton County charges has been set at $250,000.
The charges for which Heller has been arrested are mere accusations and are not evidence of guilt. Evidence in support of the charges must be presented before a court of competent jurisdiction whose duty is to determine guilt or innocence.