COLUMBIA, Mo— Perhaps Missouri's most famous twentieth century writer is again being recognized, but this time for almost 1,000 prose. Click play below to listen to KMZU's Ashley Johnson visit with an Associate Professor in the Department of English at the University of Missouri in Columbia, Frances Dickey:
A major poet and critic from twentieth century America is now having approximately one thousand pieces of his work published.
Thomas Stearns Eliot, more commonly known as T.S. Eliot, was a Missouri native with a knack for writing in many different and varied forms; some such pieces included critiques, reviews, and etcetera.
"T.S. Eliot actually is one of the most famous writers to come out of Missouri but a lot of Missourians don't know that he's from St. Louis, if they have heard of him." said Associate Professor in the Department of English at the University of Missouri in Columbia, Frances Dickey.
Dickey said Eliot wrote poems about modern cities, which she believes came as inspiration from his childhood in urban St. Louis.
"He was really kind of a journalist by trade, he wrote almost 1,000 pieces of prose," explained Dickey, "Book reviews,
opinion pieces, essays, literary criticism, lectures, letters to the editor, lots and lots of different kinds of writing and about all kinds of different subjects. And he also wrote about politics, he wrote about religion, so there's really a lot there for us to read now."
An esteemed teacher who studied at Harvard and Johns Hopkins University's, Associate Professor Dickey has a passion for the literary arts of the late nineteenth century and early twentieth century. She has collaborated on works such as "Parrot's Eye: A Portrait by Manet and Two by T. S. Eliot" Twentieth-Century Literature 52.2 (Summer 2006), "Eliot and Melomania" and "'Mandarins' at the Museum of Fine Arts" in The Edinburgh Companion to T. S. Eliot and the Arts (forthcoming), and "Prufrock and Other Observations: A Walking Tour" in the Blackwell Companion to T. S. Eliot ed. David Chinitz. Chichester: Wiley Blackwell, 2009.
All in consideration, it was no wonder she was chosen to co-edit the third volume of The Complete Prose of T.S. Eliot.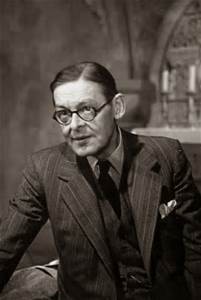 "It's really amazingly diverse what he writes about." Dickey spoke about a small bit of her time editing, "I think in our volume, which covers 1927 to 1929, literature and religion are an important theme."
Dickey continued explaining the long term project and the time needed to sort through the pieces of work. She said in the end there will be eight volumes. They have just finished the third which can be found by googeling Project Muse or by clicking here.