CLINTON COUNTY, Mo. – A Lathrop teenager was injured by an ATV crash in Clinton County Saturday, July 23, 2016.
The Missouri Highway Patrol says Andrew Wilson, 15,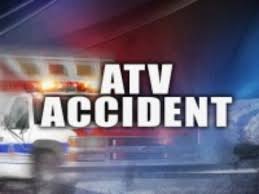 was riding on private property southeast of Wexford Road, three miles southeast of Plattsburg when the crash occurred around 5:40 in the afternoon. The ATV struck a rock, causing it to overturn and eject the rider.
Wilson was transported to Liberty Hospital with moderate injuries.