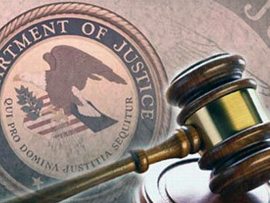 SPRINGFIELD, Mo. — A statement released by the Justice Department's Western Missouri District reveals that ten co-defendants have been charged with conspiring to distribute methamphetamine around areas of southwestern Missouri.  The indictment replaces a previous one charging 19 others in the same conspiracy.
The 66 counts include attempted distribution of at least 500 grams or more of methamphetamine by all 29 co-defendants.  Several defendants are also charged with illegal possession of firearms, money laundering and using proceeds from the sale of meth to construct buildings used for distribution.  A forfeiture of property allegation is also included in the indictment.
The ten, newly indicted individuals are,   Kenneth A. Hoffman, 45, David L. Miller, Jr., 39, Jeffrey L. Hatch, 46, Gregory L. Jones, 50, David A. Floyd, 40, Jeffrey M. Gardner, 33, Corey A. Stienbarger, 26, and Brandon W. Malen, 25, all of Springfield, Heather L. Courtois, 31, of Republic, Mo., and Brandon A. House, 32, of Ash Grove, Mo.