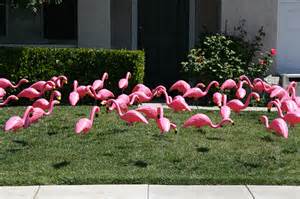 Click below to listen to KMZU's Ashley Johnson speak with Pink Lady Bandits team member, Dottie Standley:
The Flamingos are back and will begin their decent to many Carrollton residents' yards beginning April 1st. "You can put Flamingos in someone's yard, you can have them flocked," explained Standley, "You can do a full flock or a half flock or for $10 you can pay insurance if you don't want them in your yard. We move them every 24 hours and the proceeds all go to Relay for Life for the cancer." A full flock will get 24 Flamingos put into a resident's yard for only $20 and a half flock is only $10 for 12 birds.
With all the funds raised going to a good cause, this is an all-around fun way to kick-off the Relay for Life season. "They will stay there for 24 hours," Standley said, "If we put them in at 3 o'clock, they will stay there until 3 o'clock the next day. We appreciate any help we can get. Anybody that wants to, just get a hold of us and we will flock the yards."
If you are interested in flocking a friend of family member's yard or business, any member of the Pink Lady Bandits can help you. Members include Dottie Standley, Jennifer Huffman, Jamie Woolridge, Missy Woolridge, Stephanie Bugby, Brittany Cooper, Kyleigh Cooper, Tara Baker, and Kiana Fiser.
Standley can be reached at phone number (660) 202-9948. Huffman can be reached at (660) 329-2807.