MONITEAU COUNTY, Mo. – A Jefferson City driver was hospitalized after a one vehicle accident in Moniteau County Saturday, September 26, 2015.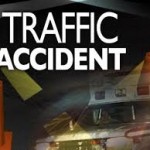 According to the Missouri State Highway Patrol, Michael Richardson, 38, failed to negotiate a curve on southbound Highway 179, just North of Chappel Road right after midnight and went off the right side of the highway. The vehicle returned to the roadway before overturning.
Richardson was transported to St. Mary's Hospital with moderate injuries.