CLAY COUNTY, Mo. – Speed may have been a factor in a crash in Clay County Saturday morning.
The Missouri Highway Patrol report says  Katy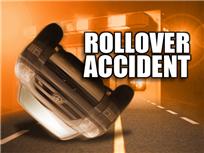 Bakken, 19, of Platte City overtook slow traffic on southbound Interstate 29 at Vivion Road around 8:30. When Bakken applied the brakes to slow down, her vehicle swerved and she over corrected, causing her vehicle to hit the drivers side of a vehicle driven by Ryan Anderson, 35, of Omaha Nebraska. Bakken's vehicle then crashed over a guardrail and overturned several times.
A passenger in Bakken's vehicle, Janice Quick, 37, of Platte City was transported to North Kansas City Hospital with moderate injuries.