Summer is a season kids anticipate all year long; a time with no school and endless adventures to be had. But instead of trying to decide whether to hang out by the pool or kick the soccer ball around, many kids spend their summer wondering when their next meal will be.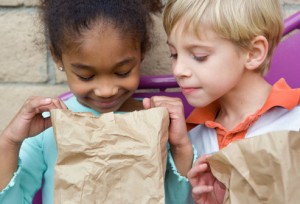 According to the USDA, 15.3 million children under the age of 18 live in households that lack enough nutritious food necessary for a healthy lifestyle. The National School Lunch Program aids in fighting childhood hunger by providing children with healthy meals, but only while they're at school.
The Missouri Department of Health and Senior Services is federally funding the Summer Food Service Program, which seeks organizations across the state to help feed thousands of children who may go without meals during the summer.
The Summer Food Service Program reimburses eligible organizations, such as schools, faith-based organizations, camps, private nonprofit agencies and local government entities, for they serve to children who don't get enough to eat.
Click here to listen to KMZU's Elizabeth Orosco talk with Ryan Hobart, spokesman for the Missouri Department of Health and Senior Services:
Spokesman for the Missouri Department of Health and Senior Services, Ryan Hobart, says that like school lunches, children can receive a meal every day if need be.
"In the areas where it's most needed, people are able to have children come in and get free or reduced price lunches through these programs, just as they would during the school year," said Hobart.
While 94 percent of school aged children participate in the National School Lunch Program, only 46 percent of children participate in the School Breakfast Program.
These statistics are alarming, as studies show eating a nutritious breakfast improves classroom performance, increases children's ability to concentrate and focus in class, leads to better test scores and grades, and minimizes disciplinary issues, tardiness, visits to the school nurse.
The sites where meals can be served must be located in areas where at least half of the children are eligible to receive the free or reduced price lunches. According to Hobart, the program is not pinned to a certain area of the state, but rather all over Missouri.
"I think there are individuals who could utilize this anywhere around the state," Hobart said. "This isn't a problem that only affects one type of person or one area of Missouri; it's something we are always looking for help with."
The Missouri Department of Health and Senior Services will be accepting applications from organizations interested in participating in the program from March 1, 2016, to May 16, 2016. Those interested in becoming sponsors, who will accept administrative and financial responsibility for all sites in their jurisdiction, are required to attend training.
To learn more about the Summer Food Service Program, visit www.health.mo.gov/sfsp, by calling 888-435-1464, or by contacting RELAY MISSOURI for the Hearing and Speech Impaired at 1-800-735-2966.
Potential sponsors may write to the Missouri Department of Health and Senior Services at:
Summer Food Service Program, P.O. Box 570, Jefferson City, MO 65102.
Shelby Flynn is a reporter for KMZU 100.7, follow her on Twitter at @shelbyflynnkmzu and send story ideas to shelbyf@kmzu.com.