CARROLLTON, Mo. — Things continue to look up for Carrollton's marijuana endeavor.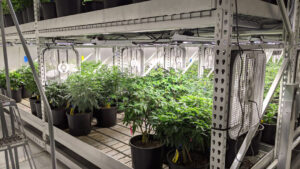 Carroll County Cannabis Company, otherwise known as C4, is gearing up for a good year after coming online in 2020 after legal medical marijuana was legalized in the November 2018 election. Vice President of Sales Brandon Green spoke with KMZU about where they stand at the beginning of 2021.
C4 has shipped marijuana throughout the state and now are on the verge of manufacturing its own products. Green says the manufacturing license will be go live soon and details what type of products of theirs will hit shelves.
Labeled essential due to medicinal purposes, the pandemic has not hindered its operation.
A massive expansion project — a 62,500-square foot building — is almost finished next to its current facility, which will house a larger growing operation. Originally hoping to be finished at the end of this month, construction should end by the beginning of spring. Hiring is still a large goal for the company, with an aim of 100 total employees if everything goes well.
Everything is looking up green for C4 as they continue to bring medical marijuana to those who need it.