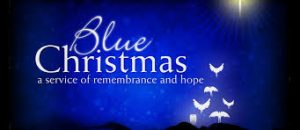 Click below to hear full interview with Jane Bartlett:
RICHMOND, Mo.- The Third Annual "Blue Christmas Service" will be at 7:00 p.m. on Tuesday, December 20, 2016. at the United Christian Presbyterian Church in Richmond
The Blue Christmas Service, open to public, is sponsored by the UCPC, local pastors, Shirkey Hospice and Palliative Care and the Fourth Tuesday Grief Support Group. The service is open to anyone dealing with loss or grief during the holiday season.
Pastor Howard states, "For some, Christmas Day is the most difficult. For others, it may be Christmas Eve, or New Years Eve, or the beginning of another lonely New Year. This Blue Christmas Service will be a time when we can, with others, acknowledge the 'blue' feelings we have at Christmas time, the reasons for them and offer them to God."
This service will replace the regular December Fourth Tuesday Grief Support Group meeting which will not be held on December 27, 2016. The Grief Support Group will meet the fourth Tuesday of January, January 24, 2017 at 7:00 p.m., for its regular meeting.
For more information or if you have questions, call Pastor Jeromey Howard at 816-776-6494, Bill Purcell at 816-776-5403 or Jane Bartlett, who's featured in the interview link above, at 816-217-3596.