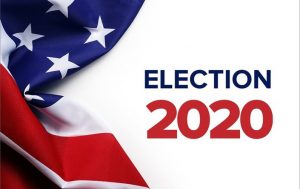 MARSHALL — Wednesday was the last day to request a ballot by mail and more than 1,000 voters did that in both Saline and Ray counties, each with roughly the same population of 23,000 residents.
"This is going to be a big deal," Glenda Powell, Ray County Clerk, says of the upcoming election. She predicts turnout could be higher than the 2008 presidential contest.
Voter response is at record levels, according to County clerk Debbie Russell.
"Saline County's response right now is just extremely overwhelming to us and we're grateful for that participation and hopes it keeps happening," Russell says.
Powell says an additional 600-plus voters came in clerk's office to vote early through absentee reasons. That enthusiasm is also occurring in Saline.
"We had 50 or 51 people come into the office in one day," Russell says.
Both are pleased with the online response from individuals volunteering as poll workers on Nov. 3. Powell says that enthusiasm has extended to first-time voters, including 18-year-old high school seniors who'll work in Lawson and Orrick precincts.
And with this excitement, both clerks indicate extra training will be offered to poll workers if political fervor gets out of hand.
"If someone comes in and show signs of a situation that might arise, they'll know what to do. I'm certainly not thinking that, but we do have to be prepared in the event that some people would be unhappy. The Secretary of State's office has given us tips and instructions for that," Russell says. Poll worker training in Saline is Monday, Nov. 2.
Two precincts in Ray County are moving to bigger facilities for better social distancing and to alleviate long lines. Orrick voters will head to the polls at Orrick First Baptist Church. Hardin American Legion will replace Hardin City Hall for those residents, Powell says.
"Every polling place will have one way in and one way out to keep it moving," Powell says.
Polls open at 6 a.m. and close at 7 p.m. on Nov. 3. Registered voters can go to their election authority and request an absentee application form if they aren't not able to vote in person on Election Day up to Nov. 2. Deadline for completed absentee ballots is 7 p.m. Nov. 3. Special absentee voting will be available at all county clerk's offices or election authorities during a four-hour period on Oct. 31. Those hours are 8 a.m. to noon in Ray County.