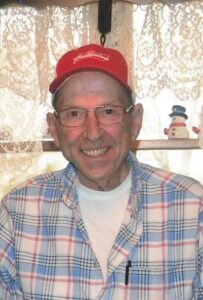 Thomas Michael "Mike" Larkin, 81, of Lexington, Mo passed away peacefully on Tuesday, July 20, 2021, at the NorthCare Hospice House, North Kansas City, Mo.
Graveside services and burial for Mike will be at Lexington Memory Gardens Cemetery at 11:00 am, Monday, July 26, 2021, 13512 Missouri 13 Business, Lexington, Mo, 64067.
Mike was born September 3, 1939, in Waverly, Mo, to his late parents John and Alice (Sowers) Larkin of Lexington, Mo.
Mike married Bonnie Lee (Williams) Larkin on December 31,1961, in Oklahoma; she preceded him in death on May 16, 2016. Mike was a member of the Lexington Baptist Church.
Mike is survived by his three daughters: Renee' Van Zandt (Jimmy) of Blue Springs, Vonda Smith (David) of Grain Valley, and Suzanne Kaullen (Steve) of Lexington; five grandchildren: Jake Kaullen (Tristin) of Liberty, Josh Kaullen (Shelbi) of Maryville, Trey Kaullen (Alix) of Lexington, Jeff Smith (Kendra) of St. Joseph and Blake Smith (Chrissy) of Olathe, KS. ; three great grandsons: Chase Kaullen, Gunner Kaullen, and Walker Kaullen, and two great granddaughters, Penelope and Isabella Smith.
He was preceded in death by his parents and sisters, Patricia Horton and Tere' Larkin.
Memorials may be sent to the Shriners' Hospital for Crippled Children or to the Chris Banks Memorial Scholarship. They may be left at or mailed to Thurman Funeral Home 507 East Main Street – P.O. Box 190 Richmond, M.O. 64085.
Please share your memories of Mike with the family at www.thurmanfuneralhome.com .