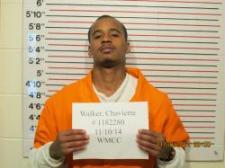 KANSAS CITY, Mo. (Press Release) – It was announced by the U.S. Attorney's office for the Western District of Missouri, that a Kansas City, Mo., man who had a 3-year-old child in the back seat of his car as he pointed a handgun at an undercover officer during a drug buy was indicted by a federal grand jury today for illegally possessing the firearm and distributing crack cocaine.
Chavierre R. Walker, 25, of Kansas City, was charged in a three-count indictment returned by a federal grand jury in Kansas City, Mo. Today's indictment replaces a federal criminal complaint that was filed against Walker on Aug. 30, 2016, and includes additional charges. Walker remains in federal custody without bond.
The federal indictment charges Walker with being a felon in possession of a firearm, distributing crack cocaine and possessing a firearm in relation to a drug-trafficking crime.
According to an affidavit filed in support of the original criminal complaint, an undercover detective with the Kansas City, Mo., Police Department and a confidential informant met Walker at a location on Westport Road to make a drug purchase. When Walker arrived at the location, driving a green 1997 Honda Civic, the confidential informant walked over to his vehicle and allegedly paid him $40 for .3 grams of crack cocaine. The undercover detective then went to Walker's vehicle and allegedly paid him $60 for .6 grams of crack cocaine.
During the purchase, the affidavit says, Walker held a silver Kahr CT9 9mm semi-automatic handgun in his right hand in his lap, pointed in the direction of the undercover detective. A three-year-old child was in the back seat and a female was in the front passenger seat of Walker's vehicle. The undercover detective believed the placement and position of the firearm, in addition to Walker holding the firearm, was done for the purposes of intimidation or as a means of discouraging the potential of being robbed during the deal.
After the transaction, Walker drove to another location, where he allegedly made another drug transaction, then to a convenience store in the 3700 block of Main Street in Kansas City, Mo. Walker went into the store, and when he came out he was arrested. Officers searched his vehicle and found the loaded handgun, a clear plastic baggie containing approximately 2.2 grams of crack cocaine and ammunition.
Under federal law, it is illegal for anyone who has been convicted of a felony to be in possession of any firearm or ammunition. Walker has prior felony convictions for robbery, armed criminal action and unlawful use of a weapon.
Dickinson cautioned that the charges contained in this indictment are simply accusations, and not evidence of guilt. Evidence supporting the charges must be presented to a federal trial jury, whose duty is to determine guilt or innocence.
This case is being prosecuted by Assistant U.S. Attorney D. Michael Green. It was investigated by the Kansas City, Mo., Police Department.