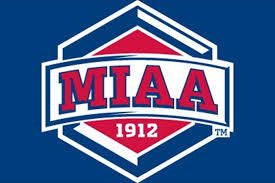 Kansas City, Mo. (Press Release) – Three MIAA teams made the field for the NCAA Division II National Football Tournament as it was announced today. Games are scheduled to begin on Nov. 19 at campus sites with everything culminating at Children's Mercy Park in Kansas City on Dec. 17 with the National Championship Game.
Northwest Missouri earned the top seed in Super Region 3 and will earn a bye and await the winner of a first round game. The Bearcats wrapped up their 28th overall MIAA championship yesterday going 11-0 on the year. They are led by Kyle Zimmerman who is averaging 277 yards per game passing with 34 touchdowns through the air.
They will await the winner of the fourth seeded Emporia State and fifth seeded Minnesota Duluth in a game that will be played on Nov. 19 in Emporia. The Hornets ride a 10-game winning streak into the playoffs after going 10-1 on the year. The Hornets are led by Braxton Marstall who is averaging 253 yards per game passing with 24 TD's through the air.
The second seed went to Sioux Falls who will open the tournament against seventh seeded Azusa Pacific. The winner of that game will face the winner of third seeded Harding who plays sixth seeded Central Missouri at home in the opening round. The Mules have won six straight heading into the playoffs going 9-2 overall on the season. UCM is led by Garrett Fugate who is averaging 303 yards per game passing with 28 touchdown passes.
First round games are scheduled for Nov. 19 with official game times to be announced early next week.