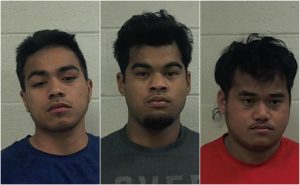 LAMONTE, Mo., — Charges have been filed against three men as a result of a home invasion that led to the shooting of a fourth suspect on Sunday.
22 year old Piaget Deitas of Lamonte, 22 year old Joyter Meseky of Sedalia, and 23 year old Alexander T. Alexander of Sedalia were each charged with Burglary in the First Degree. According to a news release, they remain in the Pettis County Jail pending $25,000 bond. Arraignment is expected to be today. The charges against a fourth suspect, 18 year old Allen Deitas of Knob Noster, are pending.
The four men are alleged to have forced entry to the occupied apartment and stealing a pistol while inside. The pistil was pointed at the resident when he fired a 45 caliber pistol in his possession, hitting Allen Deitas. Authorities have determined the resident was acting in self-defense and no charges will be brought against him.
Deitas is currently in the University of Missouri Hospital where he is recovering from two gun shot wounds.