PETTIS COUNTY, Mo. — A man accused of threatening several people with a handgun in Pettis County will appear in court Thursday morning.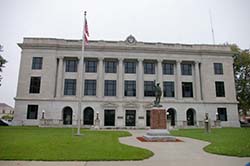 Police found 38-year-old Raul Martinez walking away from the residence in Sedalia but he did not have a weapon.
Several witnesses confirmed that Martinez was intoxicated and pointing a gun at people.
Martinez will appear at 9:00 a.m.Thursday on unlawful use of a weapon and armed criminal action charges.