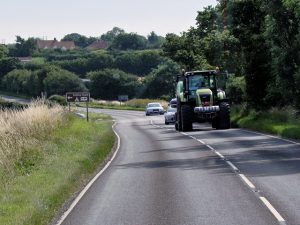 As spring planting begins, farmers are hitting the road with their equipment. This means that both farmers and other motorists need to be more careful when it comes to slow moving farm equipment.
Senior Loss Control Representative of Country Financial, Eric Vanasdale, told AgWeb , "Drivers are urged to exercise caution and drive defensively, especially when agricultural equipment is present." Vanasdale added, "Farmers are under an intense amount of pressure during planting season. Caution and patience are key."
When sharing the road with farm equipment this spring, Country Financial suggests the following six practices.
Follow state driving laws
Decrease speed and approach farm equipment carefully.
Don't pass farm equipment in no-passing zones.
Farm equipment is sometimes wider than what is visible from behind. That makes it difficult to see of there is traffic approaching from the opposite direction.
Follow farm equipment at a safe distance.
Look into alternative routes during peak commuting times.
Vanasdale also says, "We all share the responsibility of making our roads safe."