WASHINGTON — The Superbowl is coming up this Sunday, February 7, 2016. Superbowl parties across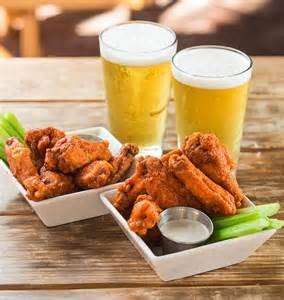 America are sure to have all kinds of appetizers. In light of the Superbowl and the possibility for food to be out for long periods of time, the USDA has sent out tips on how to keep your snacks safe.
Click play below to listen to KMZU's Ashley Johnson visit with a Technical Information Specialist with the USDA's Meat and Poultry Hot-line, Marianne Gravely:
The news release says, "With more than 1.3 billion chicken wings and 4 million pizzas expected to be eaten during the big game, there are plenty of opportunities for a food safety penalty to occur."
The following tips are to keep you and your fellow sports fans from getting food poisoning after the big game. The USDA Food Safety and Inspection Service says:
"To escape a delay of game, use effective clock management with your food. Perishable foods should not be kept at room temperature for more than two hours. Switch out these items during half time to prevent the same foods from sitting out the whole game.

Avoid a holding call by keeping hot food hot and cold food cold. Food should remain at a safe temperature and out of the "Danger Zone." The Danger Zone is the temperature range between 40 °F and 140 °F where bacteria multiply rapidly.

Avoid a false start by using a food thermometer to ensure that meat and poultry are cooked to a safe internal temperature.

Raw beef, pork, lamb and veal should be cooked to 145°F with a three minute rest time.
Raw ground beef, pork, lamb, and veal should be cooked to 160 °F.
All cuts of poultry should reach at least 165 °F.

Many cooks think they can finish their cooking play in the kitchen by checking the color and texture of meat or poultry. The only way to safely know if cooking is over and food is ready to eat is by using a food thermometer.

Prevent an illegal use of the hands by making sure to thoroughly wash your hands before starting to prepare food, after handling any raw meat or poultry and trash, and after finishing cooking. Thoroughly wash hands by using hot water and soap for at least 20 seconds. "Splashing and dashing" doesn't count."
If you'd like to learn more about food safety, you can visit foodsafety.gov.