CARROLLTON, Mo. – The year 2016 had it's fair share of major headlines. Here are the top 10 local news stories KMZU reported on this year.
10. Fatal accident in Lafayette County
A three-vehicle crash July 1, 2016 left one Warrensburg man dead and shut down both lanes of 13 Highway. The crash report from the Missouri Highway Patrol states Harold McDermid, 89, was slowing down to make a left turn when he was struck by a semitractor-trailer, which then hit another vehicle.
Read the original story here.
9. SWAT raid at Brunswick hotel leads to arrest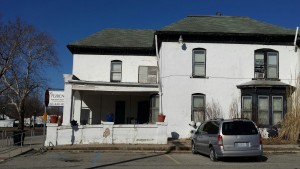 The U.S Marshall's office served a warrant at a hotel in Brunswick February 27, 2016, arresting a man charged with conspiring to distribute cocaine. Todd A. Guier, 39, was arrested at the Florence Hotel in Brunswick, which is owned by Guier's girlfriend. A federal indictment was served in December 2013, but Mike Stokes with the U.S. Marshall's office said "Guier had been on the run since the indictment was served." He was charged with one count of conspiracy to distribute cocaine, five counts of distribution/possession of cocaine, as well as two firearm violations.
Read the original story here.
8. Fatal accident near Chillicothe airport
A single-vehicle crash was fatal for two Canada residents after a crash July 24, 2016, near Chillicothe. The crash report  from the Missouri Highway Patrol states an eastbound vehicle on Highway 36 went off the side of the road, struck an embankment and went airborne. Two passengers, Lesley Oman, 58, and Sharee Oman, 56, were pronounced dead at the scene.
Read the original story here.
7. Fire at Farmland Foods
A small electrical fire at Smithfield Farmland Foods in Milan resulted in no injuries, but left many concerned in the area as plumes of black smoke were seen coming from the building.
Read the original story here.
6. Shots fired in Brookfield
A Brookfield man is facing ten felony charges for allegedly shooting a gun in his home. Officers responded and set up a perimeter around the home of Danny Gardner, 51. Gardner threatened to shoot officers if they approached. He was eventually apprehended and now faces five counts of assault on law enforcement and five counts of armed criminal action. A jury trial is scheduled for February 7-9, 2017.
Read the original story here.
5. Odessa Shooting
One man was left dead after a woman called police regarding two strange men in her driveway. An Odessa woman came home June 14, 2016, and found two men in her driveway, who asked her for gasoline. The woman called police and an officer arrived to question the two. One of the men displayed a weapon and the officer shot the man, who died at the scene. The other suspect, Glen Eugene Williams, 48, was charged with felony DWI, driving while revoked and felony possession of burglary tools.
Read the original story here.
Read the woman's account of the incident here.
4. Shooting in Higginsville
A Higginsville man was arrested April 2, 2016, after shooting his brother in the hand in front of his home. An argument broke out between the two when Nathan Haynes, 31, pulled out a weapon and shot his brother in the wrist and hip. Seven children were playing on a trampoline about 55 feet away during the time of the shooting. Haynes is charged with one count of domestic assault, one count of armed criminal action, and seven counts of endangering the welfare of a child.
Read the original story here.
3. Photo shows woman smoking meth next to baby
A Richmond woman was arrested after a photo sent via Facebook showed her smoking methamphetamine while a baby was next to her. In the photo, Ashley A. Lewis, 28, is pictured holding a glass pipe with a lighter under the end and a baby on the couch beside her. She was later found at a local motel with two other individuals and received five years probation on an endangering the welfare of a child charge in Lafayette County. She also faces possession of a controlled substance and endangering the welfare of a child charges in Ray County. A sentencing hearing for those charges is scheduled February 1, 2017.
Read the original story here.
2. Two males missing on senior trip in Branson
A story of two missing teens on their senior trip turned tragic this summer. Two teenage boys who attended St. Paul Lutheran High School in Concordia went missing May 10, 2016, while they were swimming in Table Rock Lake. The two boys, Shijian Lin, 17, and Isaac Mills, 17, were swimming from the boat and did not resurface. Their bodies were later recovered by Missouri Highway Patrol Marine Division Dive Team.
Read the original story here.
1. Carrollton Police release body cam footage of officer-involved shooting
An officer-involved shooting in Carrollton this summer underwent months of investigation and left a town asking for answers. Carrollton Police responded to the home of David Blair, 69, August 27, 2016, in reference to a dog running loose. When officers arrived on scene, Blair allegedly pulled a handgun and would not drop it when officers instructed him to do so. Police opened fire, striking Blair in the chest and head. He was taken to the hospital in critical condition. He has since been charged with assault on law enforcement and armed criminal action. Body camera footage of the incident was also released.
Read the original story here.
Interview with Chief Turner here.
Story of charges filed here.
Body Cam Footage here.