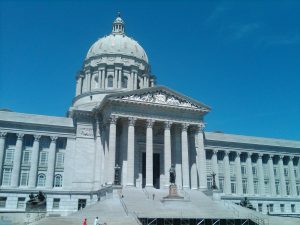 JEFFERSON CITY, MO – With the medical malpractice insurance industry in crisis, supporters of tort reform say, non-economic damage caps are the most serious roadblocks to reducing hospital and insurance rates.   Even the recently confirmed Health and Human Services Secretary, Tom Price, has been quoted as saying, "there is too much money on the table" in medical malpractice litigation.
At the state level in Missouri, Representative, Joe Don McGaugh, district 39, is sponsoring tort reform legislation intended to minimize payouts for special damages.  He says it would have an overall positive effect for Missourians.
KMZU spoke with McGaugh in a recent interview.
House and Senate versions have been moving through the Missouri Legislature.  Former governor Nixon vetoed the bill last year.  Opponents say punitive judgements are rare, but designed to prevent mistakes and bad acts. Accordingly, workers and consumers could potentially be harmed.
McGaugh says he hopes Governor Greitens will sign a version of the bill by the end of February.