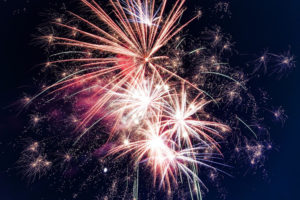 RICHMOND, Mo. – Richmond is beginning the long Fourth of July holiday week with a bang tonight, June 26, with the city's annual firework show.
The annual event was in jeopardy when funding was eliminated, due of the cancellation of Richmond Area Chamber of Commerce's largest fundraiser, the May Mushroom Festival, to safeguard against the spread of COVID-19.
Richmond Rotary Club President Becky Treccariche says her club and other civic-minded people thought it was an event worth saving.
"It was brought up to see if our club could help. So, I called if we could assist with some funding. It wouldn't the American Celebration the likes that (Richmond) chamber of commerce does. It's strictly fireworks, something to save that for our community," Treccariche said.
Rotary club members donated $2,000 and got on the phone to fund raise nearly $10,000 from city businesses and organizations.
The fireworks show is scheduled to begin at dusk in Richmond's Southview Park. Spectators are asked to observe to social distancing.