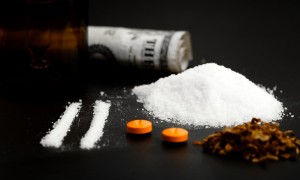 BOONE COUNTY, Mo. – A Columbia, Mo. man was taken into custody Friday evening, March 31, 2017, after a traffic stop and K-9 search by a Boone County Sheriff's Department Deputy.
According to the release, the deputy made the stop around 9:45 p.m. due to an equipment violation on Business Loop 70 near Old 63.
After the deputy contacted the female driver and male passenger the sheriff's department's K-9 Unit was brought in to conduct a search.
That search allegedly revealed several grams of methamphetamine. Heroin, crack cocaine, powder cocaine and marijuana were also found.
The report indicates numerous prescription pills were also located including Xanax, Oxycodone, Hydrocodone and more.
Further searching of the vehicle also located a handgun.
Shannon Glasgow, 27, was arrested and now faces charges of Felony Possession of Controlled Substance, Delivering a Controlled Substance, Unlawful Possession of a Firearm and Unlawful Use of a Weapon.
Glasgow is reportedly a convicted felon and not allowed by law to possess any firearm.