TRENTON, Mo — Monday, February 22, 2016, the Trenton Police Department hosted their first ever drug and alcohol abuse summit.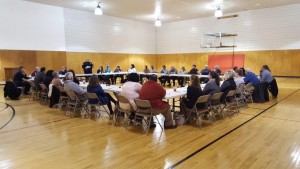 Multiple stakeholders and service providers from many areas were reported to have been attendance. Those include: Mental Health, Drug and Alcohol Treatment, Education, Social Services, Community Advocacy, State and Federal Prosecution, Law Enforcement, Elected Leaders, Fire Department, Faith Community, Homeless shelters, battered Women's Shelter, Emergency Medical Services, Hospital and other Medical Experts.
During an interview with Trenton Chief of Police, Tommy Wright, he said this summit had been in the works for quite some time.
"What we did was we brainstormed an idea to get all of these service providers, organizations, agencies together," stated Wright, "And lets start kind of working on a long-term and short-term strategic plan so that we can utilize all of our resources that are available out there to us, so that we can more effectively combat these two problems."
The P.D. decided to make this effort to proactively combat a city, state, and nationwide crisis. Viewing the statistics, explains Chief Wright, this is an area where pulling together service providers, emergency personnel, and state and local law enforcement agencies could vastly benefit the efforts in cracking down on the issues.
"It's something that we've recognized as a problem." Wright explained, "I think the problem here in Trenton is commensurate with other cities of our situation and size. But we want to get out in front of, certainly the heroin and opioid epidemic, but we want to get out in front of all of it. We want to see how we can collaboratively work together for community success."
Residents being an active part of their community, Wright noted, and putting forth the extra efforts to address these sorts of issues can make a huge difference in how successful their neighborhood is in withstanding the growing impasse which is substance abuse.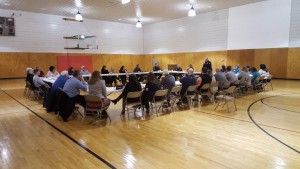 "I'd like to encourage everyone to get involved in their community." Wright expressed, "It's going to take all of us to make our communities better, not just with drugs and alcohol but everything. So get out there and volunteer, do some things for your community and show some pride in what we have, what you have in your community and I think it'll make things go a lot better."
The group, Wright stated, is focused on bettering the community and will continue to meet over the next few months. A larger, town hall type meeting, to involve community residents, is expected to be scheduled within the near future.