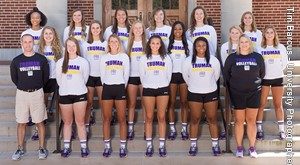 INDIANAPOLIS, In.– The 2016 Truman volleyball team was picked by Great Lakes Valley Conference coaches to finish in third place in the league's West division as announced by the conference on Tuesday morning.
The Bulldogs received 90 total points and one of the possible 16 first-place votes while the other 15 belonged to Rockhurst in the top spot and their 120 points. Missouri S&T came in at second place with 97 points before the top eight were rounded out by Drury (80), Missouri-St. Louis (64), Quincy (59), William Jewell (31), and Maryville (27).
In the East, reigning GLVC champion, Lewis, was on top with 115 total points and 12 first-place votes followed by McKendree (102) and Indianapolis (101), each of which had two first-place votes. The next five teams were picked like this: Wisconsin-Parkside (72), Southern Indiana (70), Illinois Springfield (42), Bellarmine (38), and Saint Joseph's (28).
Truman is coming off a season in which it went 17-13 overall and 10-8 in league play.
The Bulldogs will start with one of the toughest schedules in Division II with four matches will comming against teams ranked in the American Volleyball Coaches Association (AVCA) preseason top 25. Truman will begin their fourth season as a member of the GLVC with the Concordia-St. Paul Tournament in Minnesota (Sept. 2-3) against the No. 1-ranked and hosts Golden Bears (seven National Championships, all from 2007-13), No. 17 Northern State and No. 5 Western Washington.
The program's 2016 edition features seven freshmen, five sophomores, one junior, and three seniors. The top returners from a season ago include seniors Kayla Bastian, Bailey O'Drobinak and sophomore Claire Wandrey. Last year, Bastian led the team in multiple categories including sets played (115), kills (341), kills per set (2.97), total attacks (1,215), service aces (38), digs (456), and total points (403). O'Drobinak aided the attack with 103 kills while Wandrey was second to Bastian in digs with 407. They are under the direction of Head Coach Ben Briney, in his seventh season on the sidelines. Truman is 165-71 during Briney's previous six years and were the 2014 GLVC Tournament Champions.
Truman's home opener is on Friday, September 23 when they host the University of Southern Indiana at 7 p.m.