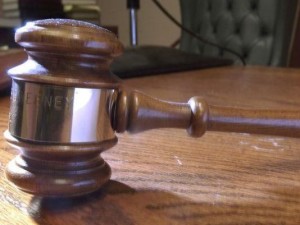 SPRINGFIELD, Mo.- United States Attorney for the Western District of Missouri, Tammy Dickinson, announced this last Thursday that two California men have been sentenced in federal court for their roles in a conspiracy to distribute large quantities of methamphetamine in southwest Missouri.
U.S. District Judge M. Douglas Harpool sentenced Jaime Gonzalez-Alvarado, 33, a citizen of Mexico residing in South Baja, Calif., and Camilo Acosta, 22, Imperial Beach, Calif. on Wednesday, September 30, 2015. Gonzalez-Alvarado was sentenced to 15 years in federal prison without parole and Acosta was sentenced to 11 years without parole.
In May of this year Gonzalez-Alvarado pleaded guilty to participating in a conspiracy to distribute methamphetamine in Barry County, Mo., from March of 2012 to October of 2013. He also pleaded guilty to possessing methamphetamine with the intent to distribute.
Gonzalez-Alvarado admitted he directed the delivery and then the distribution of the methamphetamine, which was being delivered from California to the residence of co-defendant Julio Vincente Mendoza, 33, a Mexican citizen who is a resident alien residing in Monett, Mo. The meth was then distributed by Gonzalez-Alvarado and others in the Monett area and throughout southwest Missouri.
On October 11, 2013, law enforcement officials in Oklahoma siezed one of the shipments of methamphetamine that was enroute to Mendoza's residence in Monett. Officials siezed 15 tape-wrapped bundles of methamphetamine weighing 14.61 kilograms.
On the same day, Missouri law enforcement officials conducted a controlled delivery of a portion of the meth to Mendoza's residence, where they arrested Gonzalez-Alvarado and the other co-conspirators. Officers conducted a search warrant and seized $57,600 found in a locked safe, $3,000 found in a downstairs bedroom, a Smith and Wesson 10mm semi-automatic handgun with 50 rounds of ammunition, packaging material consistent with the packaging of methamphetamine, approximately 3.5 grams of meth, a glass pipe commonly used to ingest meth and a drug ledger notebook which contained names, numbers, and currency amounts.
Mendoza and co-defendants Ernie Soto, 22, and Armando Arizpe, 24, both of Los Angeles, Calif., pleaded guilty to their roles in the drug-trafficking conspiracy. Mendoza, Soto and Arizpe were each sentenced to three years in federal prison without parole.