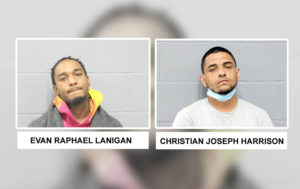 WARRENSBURG, Mo — Two men are being held without bond for the shooting death of a Warrensburg woman and the injury of three others that took place at a house party in Warrensburg on Aug. 1.
Evan Raphael Lanigan, 25, of Warrensburg, and Christian Harrison, 28, Knob Noster, are charged with second-degree murder in the death of Maliyah Lakey, 18. According to the felony complaint, Lanigan and Harrison were allegedly shooting at each other when Lakey, Harrison's apparent girlfriend, was shot in the back.
Lanigan is also charged with first-degree assault of a victim, described by the initials D.A. He allegedly shouted he was going to kill D.A. and pointed a gun at their head, pulling the trigger. After the gun jammed at least twice, Lanigan allegedly pistol whipped and repeatedly kicked the victim, according to the probable cause statement. He is also charged with second-degree assault by shooting a 17-year-old victim. That individual did not have life-threatening injuries.
Harrison is charged with shooting a 20-year-old victim in the abdomen and ankle, where the individual was taken to Western Missouri Medical Center.
Eyewitness statements collected by police indicate dislike between groups of people who came to the party spawned the incident.
A preliminary hearing for Harrison is scheduled for Sept. 16. Lanigan's is scheduled for Sept. 23, both in 17th Circuit Court in Warrensburg. Both are being held without bond in Johnson County Jail.