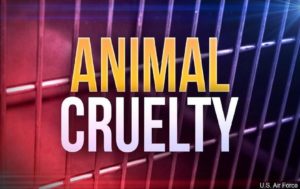 CHILLICOTHE — Two Chillicothe residents have been charged with felony and misdemeanor animal abuse after Livingston County deputies found one injured horse and others in unlivable conditions on a property.
Cailin Rhys Dixon has been charged with class E felony animal abuse, and Larry D. Coffman has been charged with misdemeanor animal abuse.
A Livingston County Sheriff's Office deputy examined Dixon's property on Sept. 1 after receiving a tip from the Humane Society about the treatment of her animals. According to the probable causes statement, this is not the first time the office has had to address complaints of her treatment of animals.
The horses Dixon kept were evaluated to be in unlivable conditions. According to the probable cause statement, there was an electric fence with several mares and colts in a makeshift pasture toward the back of Dixon's property. No hay or grass left for these animals and they were eating leaves off a tree. One of the horses on the property was left without water inside a pen so small that it could only walk around in a circle. One of this horse's rear legs was visibly injured. As the horse walked around outside of its pen, it seemed to avoid putting weight on the injured leg. When asked, Dixon said she did not know what happened to the horse's leg and she hadn't taken it to see a veterinarian.
According to the probable cause statement, Coffman is the owner of the horse with the leg injury. He told authorities the injury came after the horse got its leg caught in some wire. Coffman also failed to take the animal to treat the injury.  Coffman is a truck driver who leaves his horse under the care of Dixon and her father under the understanding that the horse will receive proper care.
The man who leased the mares and colts to Dixon told the sheriff's office he would be traveling from Savannah to Chillicothe to pick up the horses after learning of their conditions.
Separate from this incident, the sheriff's office received an email from someone whom Dixon has bought horses from and never received the money from her, according to the probable cause statement. Dixon was paid a total if $1,800 to train these two horses.
Dixon has a history of animal abuse, as she pleaded and was found guilty of a charge in Grundy County in 2017. She also has previous charges of theft and passing bad checks. Her and Coffman's initial hearing for this case will be on Dec. 9.