BENTON COUNTY, Mo. – Two people were hospitalized after their vehicle ran into a tractor and towed spreader in Benton County Tuesday afternoon.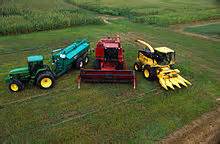 According to the Missouri Highway Patrol crash report, Leonard Sigman, 67, of Cole Camp was southbound on Highway 65, South of Route P, when he overtook a tractor pulling a fertilizer spreader that was operated by Wayne Schumacher, 65, of Cole Camp. Sigman skidded into the spreader, which detached from the tractor and ended up on top of Sigman's vehicle. Sigman was moderately injured and his passenger, Leanna Sigman, 54, was seriously injured.
They were both transported to Bothwell Hospital for treatment.