SALINE COUNTY, Mo. — A pair of Illinois men stopped last week in Saline County have been formally charged in a Saline County court.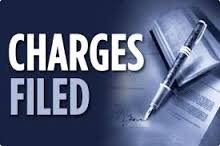 A probable cause statement indicates that Solomon Hill, 23, of Alton, Illinois, and Hussan Seanteez Hobbs, 22, of Godfrey, Illinois, were stopped December 28 on Interstate 70 at the 67 mile marker. The trooper at the scene reported smelling marijuana on the two subjects and performed a probable-cause search of the vehicle.
When the vehicle was searched, law enforcement officials allegedly found a blue suitcase with false walls. Behind the false sides, five large bags of vacuum-sealed marijuana were uncovered, weighing approximately five pounds.
Both Hobbs and Hill are now charged with one felony count each of delivery of a controlled substance except 35 grams or less of marijuana. Bond for each man is set at $10,000, cash or surety allowed.
Hill and Hobbs are both slated to appear in a Saline County courtroom on Wednesday, January 3 at 9:00 a.m.