ANDREW COUNTY, Mo. – Two Savannah residents were injured during an ATV collision in Andrew County Saturday afternoon.
According to the Missouri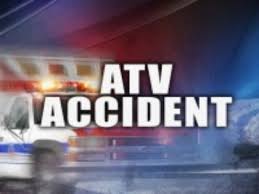 Highway Patrol report, Elmer Biswell, 36, was eastbound on County Road 336 when an ATV operated by Cody Cline, 16, of Pickering, pulled out of a private driveway. Cline's ATV skidded on gravel and was struck by Biswell. Biswell received minor injuries and his passenger, 14 year old Loriade Petyjohn, 14, suffered moderate injuries when the ATV overturned.
Both were transported to Mosaic Life Care for treatment.