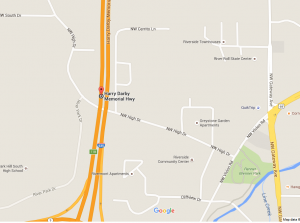 PLATTE COUNTY, Mo. – A one vehicle crash injured two Kansas City, Ks. residents in Platte County Sunday evening, May 22, 2016.
The Missouri State Highway Patrol reports that Filiberto Diaz-Recinos, 37, was southbound on I-635 near Riverside, Mo. when the vehicle went off the left side of the roadway and struck a guardrail.
Diaz-Recinos suffered minor injuries and refused treatment at the scene. His passenger, Regino Diaz-Lopez, 31, was seriously injured and transported to North Kansas City Hospital for treatment.