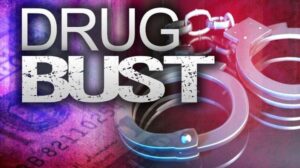 CARROLLTON — An investigation into drug activity at a Carrollton house culminated in the discovery of methamphetamine, prescription drugs and numerous items of drug paraphernalia.
Officers of Carrollton Police Department and the Missouri Highway Patrol served a search warrant on Jan. 21 at an alleged drug house, located at 415 W. Lincoln Ave. The warrant was the result of a months-long investigation into drug activity there, according to Carrollton Police Chief Chris Looney.
"It was a known stronghold in the community that we received multiple complaints from members of the neighborhood," Looney tells KMZU.
Two men, Alando Edward Harker, 42, and Timothy Adam Stanley, 43, were found in the home. Formal charges filed in Carroll County Circuit Court on Friday, charge both men with three counts of drug possession and possession of drug paraphernalia as prior offenders. They are being held without bond in Chariton County Jail.
In his probable cause statement, Chief Looney notes both men have been convicted of prior drug and other offenses. Harker is currently on probation for a 2016 drug conviction. "Recent overdose and deaths have been contributed to the types of narcotics located in Harker's home, and individuals have reported that Harker is the source of the drugs," the statement says.
According to court documents, authorities seized methamphetamine, Clonazepam and Norco prescription pills, multiple syringes, a digital scale, numerous glass pipes that allegedly tested positive for meth. Three cell phones were also seized, one allegedly containing messages regarding drug sales.
In a related investigation, authorities arrested John Paul Rivera, 50, of Carrollton. On Friday, Carrollton police conducted a "knock and talk" at Rivera's apartment. Police allegedly found marijuana and meth residue on a container in the home, along with rolling papers. He allegedly admitted to using meth and tested positive via a drug screen. He has been formally charged with possession of a controlled substance. He's being held without bond in Chariton County Jail.
All three men are scheduled to appear before the court on Monday, Jan. 25.