BATES COUNTY, Mo. – Both occupants of a one vehicle accident in Bates County were flown to a hospital Saturday afternoon.
According to the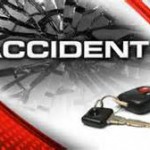 Missouri Highway Patrol report, the crash occurred just before 3:30 yesterday on County Road 5004 at the Bates/Henry County line when Levi Hearting, 30, of Butler ran off the right side of the eastbound lane, over corrected off the left side and struck a tree.
Hearting and his passenger, Scott McElwain, 43, of Butler were seriously injured and flown to Research Hospital for treatment.