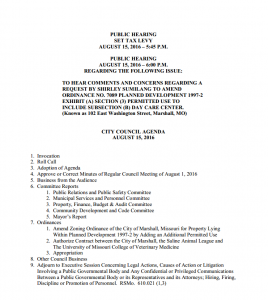 MARSHALL, Mo. – The Marshall City Council will gather for a regular session Monday, August 15, 2016, at 6 p.m. That will be preceded however by two public hearings.
First up is for the setting of the tax levy at 5:45 and the second will be at 6 p.m. Council will hear comments and concerns regarding a request by a local resident to amend an ordinance concerning planned development related to a possible day care on East Washington Street. A vote on that amendment is expected later to during the regular session.
During the regular session standing committees will give their reports, including the public relations and public safety. As well as municipal services and personnel committee along with the property, finance, budget and audit committees.
Following those reports will be a discussion of possibly authorizing a contract between the city, Saline Animal League and the University of Missouri College of Veterinary Medicine.
The agenda indicates council may adjourn into closed session following open proceedings.
Council will gather in chambers of the Marshall City Office Building, 214 North Lafayette Avenue