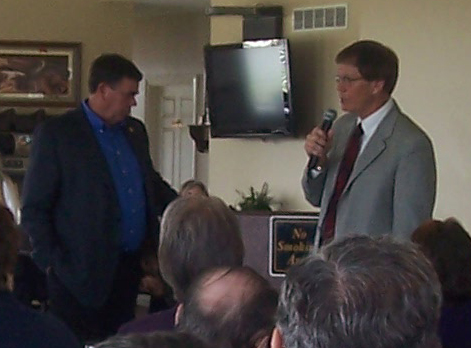 A pair of prominent figures from Saline County were in Marshall Monday to update the public on recent actions in Jefferson City.  Click to hear the presentation:
As they let out for spring break, Republican leaders put a promising spin on the first half of the legislative session, even though a parade of delicate issues await them and time is running out for a bill that would extend jobless benefits.  To some residents, the list of recent accomplishments of both legislative branches don't compare to the issues that have either flopped or wait in line – everything from education funding and unemployment benefits to congressional redistricting and an overhaul of tax credits.  Both Senator Bill Stouffer and State Representative Joe Aull took advantage of the time away from the capitol to meet with the public Monday in the hopes of shedding new light on recent developments in Jefferson City.  Aull said he prefers to air out the issues in person.  "We need to make sure the public understands what issues we are dealing with and we need to be sure they know what issues are on the table.  We are in about the mid point of the session so we can tell residents what we're facing in the second half and can listen to what they have to say," said Aull.
With the talk of jobs and the economy continually dominating most of the discussion, Senator Stouffer says he's working to get Missourians back on their feet.  "Government does not create jobs.  We create an environment in which jobs can flourish and we continue to have a slow jobless recovery.  I think a lot of that is induced at the federal level.  There are too many unknowns.  People are not going to invest their money in new jobs, new factories until they know what the rules are.  When you have health care, for example, up in the air, their just simply not going to take the risk," said Stouffer.
Legislators return March 28 and it is not clear if state budget cuts would dam the flow of federal red ink.