CARROLL COUNTY, Mo. — Two Carrollton residents have pleaded guilty to kidnapping, assault and armed criminal action charges.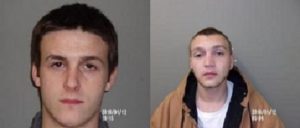 At a hearing Tuesday, July 10, 2018 in Carroll County, Devon L. Wright, 17 and Justus D. Webb, 19 entered guilty pleas to an amended complaint filed by the prosecuting attorney.
The court accepted a plea bargain and sentenced the defendants to seven years on each of the second degree kidnapping and assault charges and three years for armed criminal action.
Investigators allege the two men were trying to coerce the victim into giving false testimony in an unrelated court case.