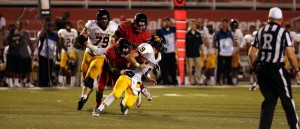 WARRENSBURG, Mo. — Garrett Fugate threw a 27-yard touchdown pass to Kyle Echols with 3:45 to play in the game and the UCM defense held up late as 20th-ranked Central Missouri rallied for an 18-17 win over Missouri Western in Thursday night's season-opener at Walton Stadium/Kennedy Field. The win for the Mules snapped a four-game losing streak against the Griffons.
The Griffon defense did its part, holding the Mules to 300 yards and just one touchdown but couldn't force a turnover, while the Griffon offense had two. Missouri Western led 17-12 with six minutes to play after a 25-yard field goal from Tanner Pettet. With less than five minutes remaining, UCM had the ball third and 20 from the UCM 20 and completed a 38 yard pass to the MWSU 42. Four plays later the Mules scored on a 27-yard touchdown pass with 3:45 to go that put the team ahead 18-17. The Griffons had two more opportunities offensively that ended in an interception and a turnover on downs.
For the Mules, Fugate finished the game 18-of-32 for 233 yards and a score. He connected with eight different receivers in the game. Cooper had a team-high five catches for 42 yards, while Zachery pulled in three balls for 83 yards. Markel Smith rushed 13 times for 48 yards in his collegiate debut.
Defensively, the Mules registered 12 tackles for loss, including 4.5 from last year's MIAA leader Venckus. Lackey and Miller had interceptions and the Mules recorded four sacks.
For the Griffons, Windmiller finished the game 21-of-38 for 313 yards with a touchdown and two interceptions for Missouri Western. The Mules held the top returner rusher in the MIAA, Raphael Spencer, to just 30 yards on 21 carries. Clark hauled in five passes for a game-high 104 yards. Toliver had four catches for 84 yards and a score.
The Mules are back in action next Thursday night at Emporia State for a 7:07 p.m. kickoff. The game will be televised on the MIAA TV Network.
MIAA Football Score Recap:
Pittsburg State- 38  Northeastern State University- 14
Washburn University- 14   Lindenwood University- 20
Fort Hays State University- 30  University of Central Oklahoma- 29
Northwest Missouri State- 31   University of Nebraska at Kearney- 0
Emporia State- 38   Missouri Southern State University- 20