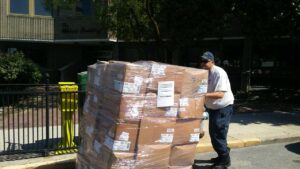 CHILLICOTHE — The United States Exercise Tiger Foundation will hit a milestone on Wednesday as it delivers 3,000 masks to Chillicothe VFW and American Legion Staff Officers.
The USTF is delivering these masks as a part of the "Mask A Vet" campaign, a statewide initiative that plans to get every veteran and their family member a mask to help prevent COVID-19 infection, according to the news release. There are five reusable cotton-blend masks in a pack that have been sealed by the U.S. Public Health Service.
The masks will be arriving via aircraft to the Chillicothe Municipal Airport in collaboration with Kingdom Association pilots. Wednesday's delivery will mark 1,000 miles flown by KPA planes and pilots since Sept. 13. Several area veterans are planning to meet the aircraft at noon on Wednesday at the airport, according to the release.
According to the news release, this is the largest humanitarian mission the USTF  has taken on. To date, 50,000 masks have been distributed through the VFW, American Legion, VA, Vet Center and via walk-up or drive through events in Boone and Callaway counties. This will be the first deliver in Livingston County, with more deliveries in the state to happen in the coming weeks.