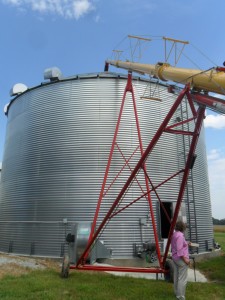 COLUMBIA, Mo. — Grain bin entrapment might be a foreign situation for some, but a significant threat for farmers in Missouri.
A report in 2014 indicated 38 grain bin entrapments took place, 17 of which resulted in death. One of those deaths was reported in Missouri. In fact, 70 percent of all grain bin entrapments result in death.
"I really don't know what's prompted me to make it," said Kenneth Bassett, mechanical trade specialist and master pipe fitter at the University of Missouri department of maintenance.
Bassett watched a documentary on grain bin entrapments, and realized the need for a safety device that would be suspended over the bin: The Spider.
"I wondered why they didn't just put a net on top of the grain," Bassett said. "The net, if attached to the right mechanisms, would just stay on top of the grain as the grain was incrementally removed."
With an idea and a desire to make a difference, Bassett sought the help of friends and colleagues to develop the prototype. Using duct work and limber, the crew assembled a scaled grain bin and developed the safety net.
Through discussions with professionals and word-of-mouth, news spread and Basset had a meeting with the department of Ag Engineering at the University of Missouri.
"I was actually expecting a few rounds of laughter … and I got none of that," Bassett explained. "I got excitement and approval. That very much surprised me."
Bassett left the prototype with the team at Ag Engineering to continue testing a developing The Spider into a fully functioning product. As work continues to get The Spider made available for farmers, Bassett's intentions remain true.
"I'm hoping that someday, a farmer will install this and his son will come home for dinner," Bassett said. "We've had people talk about patenting it, making money off of it, but that's not our intention. It's much more important to save a life."