LAWSON, Mo.— (update 4:45 a.m. Nov. 18)Lawson Fire Department contained an early morning fire. Lawson Fire Department Chief Richard Nolker confirmed that his department and first responders from neighboring agencies, contained a residential fire by 4 a.m. Monday in Lawson. Chief Nolker says first responders escorted all four occupants safely from the home and reported no injuries. A Lawson patrol officer reported the fire around 1 a.m.  Monday. The structure suffered extensive damage to its second story. Agencies currently investigate the cause of the fire. 
LAWSON, Mo.— Reports state Lawson Fire Protection District is in progress of containing a house fire.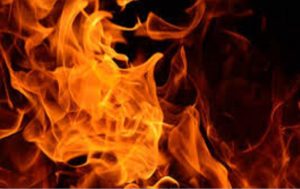 Sources reveal that the Lawson Fire Department responded to a call of a possible house fire around 1:45 a.m. Monday. At this time firefighters address the fire following an emergency call from the neighbor of the burning house. Sources indicate the house is multiple stories in height and aflame on various sides of the structure. It appears Lawson firefighters arrived quickly and currently fight the flames.  No release of knowledge on occupants at this time.
Stay with KMZU as we follow this story and update information as it becomes available.