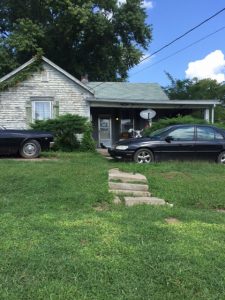 CARROLLTON, Mo.—The investigation into the August 27, 2016, officer-involved shooting has been completed. The incident left one Carrollton resident in critical condition and facing two felony charges.
Body camera footage has not yet been released; KMZU requested the footage Friday, October 7th, 2016.
A probable cause statement by Sergeant Greg Martin, a Criminal Investigator with the Missouri State Highway Patrol's Division of Drug and Crime Control, indicates a Carrollton Police Officer located an unattended dog in the area of North Main Street and East Benton Street at approximately 9:30 p.m. August 27, 2016. Victim Officer Number One radioed his dispatch center and reported the physical description of the dog. The dog was then taken to and secured at the Carrollton City Dog Pound.
After being notified by Victim Officer Number One about the dog, dispatch center received a telephone call from David William Blair, 69, reportedly the dog's owner. Subsequent to this, Victim Officer Number One spoke with Blair by telephone and explained he would be required to pay a fine to get his dog from the city pound.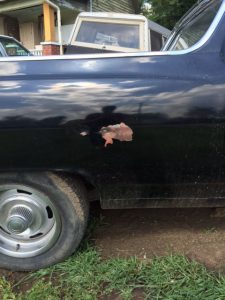 Victim Officer Number One and Victim Officer Number Two responded to Blair's residence at 311 East 3rd Street at approximately 10:15 p.m. August 27, 2016, in Carrollton. Officers parked a short distance west of Blair's residence and approached him on foot.
Victim Officer Number One acknowledged Blair by name, who was standing in the front yard of his residence. At this time, Blair was standing near the passenger side of a vehicle parked in the grass in his yard.
As both officers approached Blair, Victim Officer Number One asked Blair what he had in his hand. Blair then said, "a pistol." At this point, both officers begin issuing voice commands for Blair to drop his pistol, which he failed to do. Victim Officer Number One said it appeared Blair started to move his arm towards both officers.
Subsequent to this, Victim Officer Number one fired his handgun at Blair, who fell to the ground. Once on the ground, officers continued to tell Blair to drop his pistol. Blair was then handcuffed and officers requested medical assistance and began performing first aid on Blair.
After Missouri State Highway Patrol completed their portion of the investigation, it was handed over to Cassandra Brown, the Carroll County Prosecuting Attorney. Her portion was completed October 7, 2016, which found Blair facing felony assault on a law enforcement officer in the second degree, and felony armed criminal action. Charges can be read here.
Local residents held a prayer vigil outside Blair's home days after the shooting, to pray for his health and healing, for Carrollton Police Officers and their families, and to urge people to remain peaceful, even in the midst of such a violent event.
The two officers involved in the shooting were placed back on duty shortly after the incident, per General Policy protocol of the Carrollton Police Department.
Residents of Carrollton say Blair is recovering and will be placed into assisted living, and will not be returning home.
Documents:
Carrollton Police General Policy Form