UPDATE: (12/09/18, 2:50 a.m.) – A list of possible charges have been compiled by the Missouri Highway Patrol, after a suspect fleeing from police crashed in Caldwell County yesterday.45 year old Andy L. Strahm, 45, of St. Joseph is at Liberty Hospital suffering from serious injuries, that may include a self inflicted gunshot wound. Strahm injured a couple from Cameron when he rear ended their car during a pursuit on westbound 36 Highway Saturday. The highway patrol intends to seek formal charges for felony driving while intoxicated, unlawful use of a weapon, resisting arrest for a felony, misdemeanor careless driving resulting in a crash, driving without a license and no insurance.
UPDATE: (12/09/18, 12:19 a.m.) – The Chillicothe Police Department released a statement Saturday night, saying that a pursuit that ended in a crash in Caldwell County, originated in Chillicothe. Officer attempted a vehicle stop after several citizens complaints of reckless driving. The vehicle sped away from officers and went west on 36 Highway. Livingston County deputies took up the pursuit and continued the chase into Caldwell County, where the suspect rear ended another westbound car. Chief Maples said there is a suspicion that the suspect may have shot himself at some point. A couple from Cameron in the other vehicle were treated for minor injuries.
UPDATE: (12/08/18, 11:18 p.m.) – A police pursuit in Caldwell County resulted in the suspect vehicle colliding with another vehicle around 5:30 p.m. Saturday afternoon. A listener who watched the crash unfold said that a westbond vehicle pursued by law enforcement ran into the rear of another westbound vehicle on 36 Highway, causing the second vehicle to overturn. The suspect car rolled through the median and flipped end over end across the eastbound lanes. The driver of the suspect vehicle, Andy Strahm, 45, of St. Joseph has been hospitalized with serious injuries. A couple from Cameron, Mary and Mark Carr, each 61, were being treated for minor injuries.
UPDATE: (12/08/18, 7:50 p.m.) – We have details from a lucky listener who received damage to his vehicle during the crash that closed 36 Highway tonight. The caller said that the vehicle that crashed was being pursued by a number of law enforcement vehicles. The westbound suspect struck the rear of another westbound vehicle, pushing it into a wall. The suspect car the rolled sideways through the median and entered the eastbound lanes flipping end to end. Our caller avoided being hit by the suspect vehicle but sustained damage to his car from parts flying off the suspect vehicle. It appears that it will be some time before the official report will be available.
LIVINGSTON COUNTY, Mo. – KMZU has received reports from several listeners that both lanes of 36 highway are backed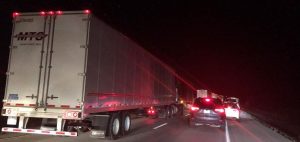 up due to a serious crash West of the Breckenridge/Braymer exit.
The incident was reported around 5:30 p.m. this afternoon and at 5:55 p.m., the highway was still blocked. At 6:15 p.m., the listener who is stuck on the eastbound lane of 36 highway reported that traffic was just beginning to slowly move.
We will bring you further information once it becomes available.