ASHLAND, Ky. (AP) 12:33 p.m. CDT — A federal judge has ordered a defiant Kentucky clerk to jail after she refused to issue marriage licenses to gay couples.
U.S. District Judge David Bunning told Rowan County Clerk Kim Davis she would be jailed until she complied with his order to issue the licenses. Davis said "thank you" before she was led out of the courtroom by a U.S. marshal. She was not in handcuffs.
Davis has refused to issue marriages licenses for two months since the Supreme Court legalized gay marriage. She argues that her Christian faith should exempt her from signing the licenses.
ASHLAND, Ky. (AP) — Hundreds of protesters have filled the street in front of the federal courthouse in Ashland, Kentucky, where a hearing is taking place today on a gay marriage case.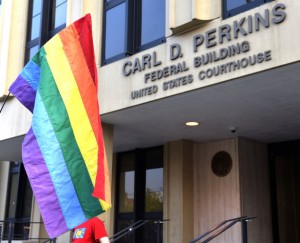 Rowan County Clerk Kim Davis has defied federal court orders to hand out marriage licenses, saying her religious beliefs don't let her endorse same-sex marriage. A judge has ordered her to appear Thursday. If she continues to refuse to follow the law, she could be hit with fines or jail time.
The demonstrators outside are waving signs, chanting and singing hymns as they wait for Davis to arrive.
Signs ranged from the violent — turn to Jesus or burn — to simple statements of support.