CLINTON COUNTY, Mo.— (update 12/16/2019 3:15) Highway patrol releases details surrounding a crash that closed a portion of southbound I-35 late Sunday night. Reports state that the tractor trailer driven by Zoran Ealjedic, of Illinois, went off the road and crashed into a guardrail after he lost control of the wheel. The tractor trailer came to rest in the median blocking southbound I-35. Subsequently, two passenger vehicles and a freight-liner, collided with the side of the tractor trailer. The freight-liner operator, Quintin M. Jensen of Minnesota, walked away from the crash uninjured. The driver of one passenger vehicle, Jaime A. Maldonado of Wisconsin, sustained minor injuries. The driver of the other passenger vehicle, Joseph B. Harris of Kansas, received minor injuries as well. Harris's passengers, also of Kansas; Cyreesa S. Harris, Cassidy E. Harris, and two juveniles all endured serious injuries and EMS took them to a hospital.
CLINTON COUNTY, Mo.— (update 12/15/2019 23:00) According to the Clinton County Sheriff's Department, the area of southbound I-35, near the U.S. 69 overpass, opened up to traffic again following a multi-vehicle accident. The extent of injuries to those involved in the crash remains unknown. 
CLINTON COUNTY, Mo.— The Clinton County Sheriff's Department announced in a Facebook post, that a multi-vehicle accident closed a portion of I-35 southbound near the U.S. 69 Highway overpass.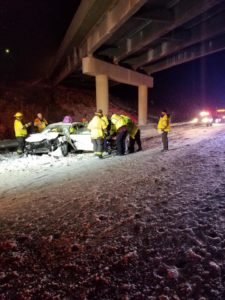 According to the sheriff's office the accident resulted in injuries however, the extent of those injuries remains unknown.