UPDATE (05/12/16; 5:56 p.m.): More details have unfolded in the Carlie Trent case. According to the Tennessee Bureau of Investigation (TBI) Carlie and Gary Simpson were found in a wooded area in Hawkins County by two citizens who were checking their property. TBI Director, Mark Gwyn, said in a press conference that Donnie Lawson and Roger Carpenter went to the area after law enforcement urged residents to search remote areas of their properties, as Simpson had purchased camping equipment.
The men found a remote area where Simpson was holding Carlie. Carpenter, who is a minister, held Simpson at gunpoint, while Lawson called for law enforcement. It is thought that Lawson and Carpenter were patrolling the area on ATV's, as Gwyn stated they were found in a deeply wooded location.
Carlie was then taken to a hospital to be medically examined.
UPDATE (05/12/16; 4:25 p.m.): According to the Tennessee Bureau of Investigation (TBI), it has been confirmed that Carlie Trent has been found safe in Tennessee and Gary Simpson was taken into custody. There will be a 5:15 p.m.CT news conference at TBI headquarters related to Trent being found
UPDATE (05/10/16: 10:12 p.m.) Cooper County has updated the Amber Alert investigation.
Cooper County investigators have been able to tentatively identify the individuals in the earlier released photo. The subjects in the photo ARE NOT Gary Simpson and Carlie Trent. Investigators have spoken to the individuals in the photograph and confirmed their identity as a Stover Missouri resident.
Again We have confirmed that these individuals ARE NOT Gary Simpson and Carlie Trent. Please continue to be vigilant for Carlie and Simpson.
UPDATE (05/10/16; 8:21 p.m.): The following is a release from the Cooper County Sheriff's Office.
"There has been an unconfirmed sighting of two individuals matching the description of missing 9 year old Carlie Trent and her alleged abductor, 57 year old uncle, Gary Simpson.  Carlie was allegedly abducted by her uncle on May 4, 2016, in Rogersville, TN.  A felony warrant for kidnapping has been issued for Simpson.   On May 10th, a tip was received by law enforcement that two individuals were spotted yesterday, May 9th, in a canoe traveling on the Lamine River near Otterville, Missouri.  Law Enforcement is providing the attached picture of the individuals who match the description of Trent and Simpson in an effort to confirm the identity of the individuals in question.    If you have seen or know these individuals, or their whereabouts please contact the Cooper County Sheriff's Office at 660-882-2771 or your local law enforcement department.   Simpson may be traveling in a 2002 white Dodge Conversion Van with Tennessee license plate 173GP6.   The public is asked to remain vigilant and report any information to area law enforcement."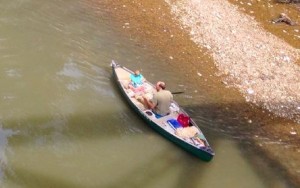 Photo of possible sighting, courtesy of Cooper County Sheriff's Office.
UPDATE: 5/10/16 5:04 p.m. – The following is an advisory from the Cooper County Emergency Management Agency.
"Tuesday morning the Cooper County Sheriff's Office received a report of a possible sighting regarding a Tennessee Amber Alert. The sighting reportedly occurred on Monday the 9th. The possible sighting took place on the Lamine River near Clifton City. Responding units saturated the area and commenced a search. Boats and aircraft were utilized during the search as well as ground units. As a result of the search contact was made with area residents who reported seeing a van matching the description of the Amber Alert van. Further investigation revealed the van was not the van described in the initial TN Amber Alert. No other information has developed regarding the possible sighting. Officials continue investigating to determine if the sighting may have been local residents."
OTTERVILLE, Mo. — The Cooper County Sheriff's Department in Missouri has issued an Amber Alert for a child abducted in Rogersville, Tennessee on Wednesday, May 4, 2016.
The Tennessee Bureau of Investigation says Carlie Marie Trent, 9, was removed from school by her uncle by marriage Gary Simpson under false pretenses. He has no custodial rights to Carlie.
The Cooper County Sheriff's Department says information obtained today, Tuesday, May 10, 2016 indicates Carlie and Gary were possibly spotted in the Otterville, Missouri area yesterday, Monday, May 9, 2016.
Carlie is 4'8″ tall, weighs 75 lbs with blonde hair and blue eyes.
She was last seen wearing a black and grey tank top and blue jeans. Simpson is a 57-year-old white male, 5'10" tall, weighing 157 lbs. He is balding and has brown hair and eyes.  He was last seen wearing a brown cap, a dark colored shirt and jeans.
He was last seen driving a white 2002 Dodge Conversion Van with TN registration 173GPS. The van has a dark stripe down the middle with light gold running boards and paint is chipping off of the hood.
Though their whereabouts are currently unknown, investigators believe they may be out of public view and in an isolated area, such as a campground or park.
The U.S. Marshal's Service has increased their original reward from $2,500 to $5,000 for the arrest of Gary Simpson and the recovery of Carlie Trent. Carlie's pediatrician is also offering a reward of $10,000.
Warrents have been issued for Simpson's arrest. Anyone with information is urged to contact the Tennessee Bureau of Investigation at 1-800-TBI-FIND, the Cooper County Sheriff's Department at 660-882-2614, or dial 911 to contact your local law enforcement.